Do you have hopes and dreams for your garden?
Would you like to have more color, texture, seasonal interest, scent, and visual appeal? Would you like encouragement learning to love gardening, or guidance bringing your garden to the next level? Below are gardens created by CWGardenDesign from a blank slate. Now there are blooming flowers throughout the seasons, attractions for pollinators and beneficial insects, even sculptures to delight the senses, creating a beautiful oasis.
CWGardenDesign provides consultations for garden design in the Philadelphia area. By working together with you to determine your overall garden plan, and hardscaping needs, we will help you to find options to reach your desired goals. Perennial bed design is an art form and a special interest of CWGardenDesign. Designing, installing, and maintaining the beds of your dreams is our focus. During the design phase, we will carefully evaluate the level of maintenance . Based at Frog Hollow Hill Garden, CWGardenDesign is also available for site-specific sculpture design, fabrication, and installation. Please follow the Instagram link below for more photos of garden work and sculpture commissions.
Focusing on variations in texture and color is important in the design of any perennial bed. Photo by Rob Cardillo shows a garden designed and installed a few years earlier by CWGardenDesign.
This sunny border garden looks great in the early summer; careful consideration has gone into the design of this bed to have a long extended season. There are underlying bulbs and spring flowering perennials already disappearing at this point. This garden is also layered with grasses and other perennials that will become more dominant into the fall and winter.
These next 2 photographs show a part-shade garden. First at the time of installation early in the season, then the second photo about two months later.
This dry garden island, placed into a rocky bed, has vibrant colors and diversity of texture.
Attracting pollinators and beneficial insects are key to a great garden. Long blooming Agastache shown here is a favorite for this.
Underplanted with bulbs for spring interest, the following is a low maintenance grass garden with swaths of astilbe and perennial alliums for summer color. The photograph by Rob Cardillo was taken in early summer.
A mixed woody screen planting serves as the backgroud of the sunny perennial border. Progress from bed preparation to summer display captured in the photos below.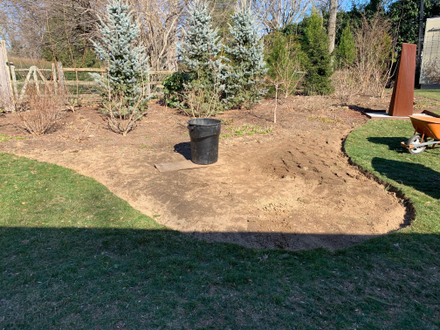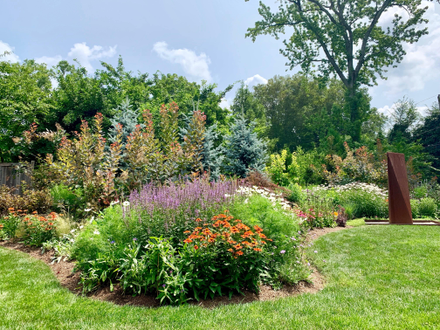 Woodland garden installed spring 2020. Custom designed sculpture installed in dry creek. Attention to fou seasons of interest with evergreen Acorus and red twig dogwood for winter interest. Full underplanting of bulbs for spring. Custom designed ring sculpture installed follow the contour of the dry creek bed.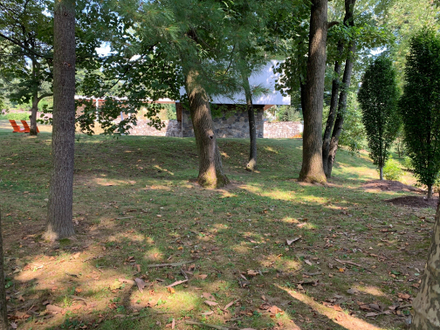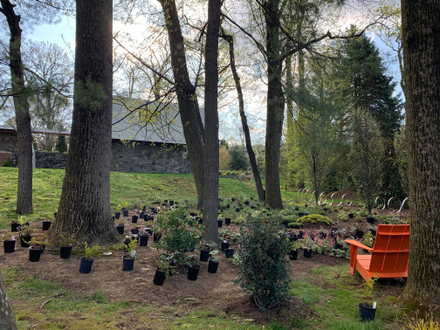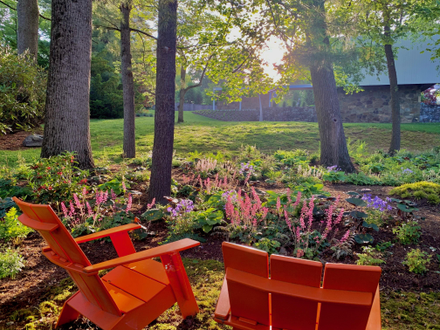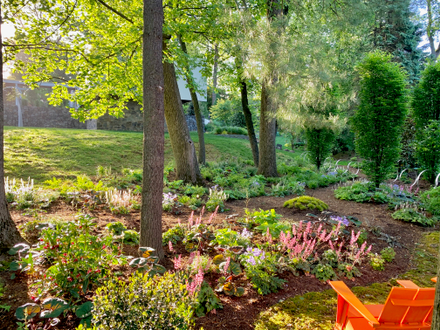 This dry garden, installed in the Spring of 2020, features a rock retaining wall designed a new path to access the lower section of the property. Scroll to see the before and after pictures.
S Steep slope limiting access to property.
Black granite curb steps winding down along dry garden.
This garden, planted in 2019, has a more naturalized planting style. These photos, taken a few weeks after installation of the shade-tolerant evergreen shrubs providing a privacy screening, display mass planting of native Carex Appalachia, and a bed of low maintenance little bluestem grass in the foreground.
More
before and after photos of gardens by CW Garden Design. Photos on the right were taken about 3 years after the ones on the left.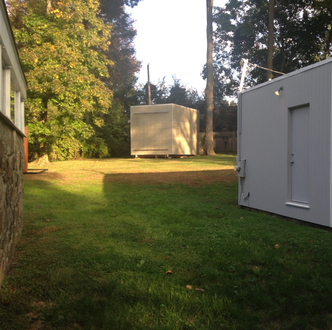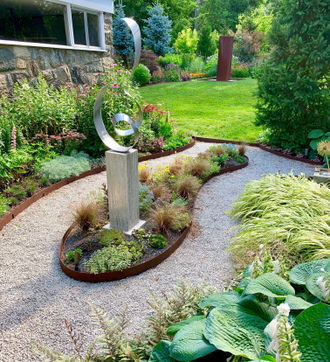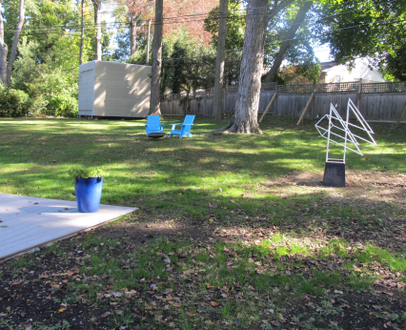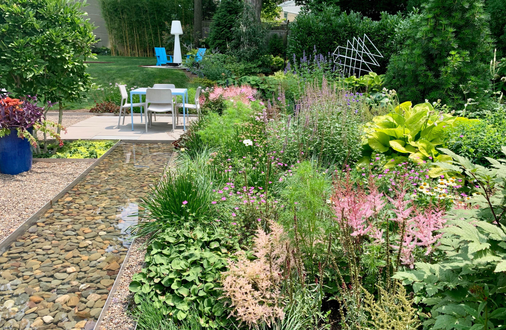 I hope to hear from you to discuss how I can help you create the garden of your dreams.